Eddie Patron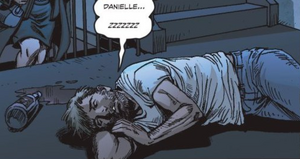 Personal Info
Full Name:
Eddie Patron
Vital Statistics
Species:
Human
Gender:
Male
Hair Color:
Brown
Eddie Patron is a neighbor of Jonathan's with major problems of his own. He later is Vanessa's neighbor and those problems have not gone away.
Bio
In the Comics
Eddie walks by a drunk Jonathan who is mumbling something about Madison.
Vanessa walks by Eddie in her apartment. He is crying Danielle's name.
Quotes
Gallery